Feel Free to Order…
the next two are not ready to ship but a Brief  Backorder would have one to you soon.
$20 off Premier Sale  for Backorders:
I'm writing this Jan. 19 (2023)
#1's sold. #2's sold & being finished, so:
#3 is about 3 weeks out (drying time included)
Celebrating our first professional gun drill, in 7/8″:
This hardwood body of this flute is now solid-bored, not split long-ways, routed, and glued back together like our earlier models.
The photos are all of #1 of a run of six, all the same model, finishing about weekly (then drying).
Warbler:
Here is a very basic video with very basic audio of the primary scale and warbling, first dry, then with reverb:
Specs:
F#, A=440Hz, standard pentatonic minor scale (primary) built with intuitive cross-fingerings and some second register for extended scales and versatility.
Accent ring made of random, hand-fractured paua shell pieces (a very vivid subspecies of abalone) from a shoebox cache I collected on the beach with Mom in New Zealand 40 years ago. Stabilized with acrylic.
Subtle but Effective Finish:
This flute is not shiny — the "drying oils" harden in the wood, not on top. Extra wax can add sheen, if desired, but is not necessary, and the wood is not absorbent (does not drink temporary oils or waxes and dry up like unfinished wood).
Also, claro walnut and especially ash like to finish a bit more matte than, say, maple, for me (even after 2 coats of drying oils), which gives it a sassafras-like look.
Just as I have always strived for a certain voicing with a few noticeable harmonics, I like my flutes to look almost like bare-burnished wood (but they are actually sealed and, thus, durable + low-maintenance).
Use the magnified picture gallery, above, or see sized pics below.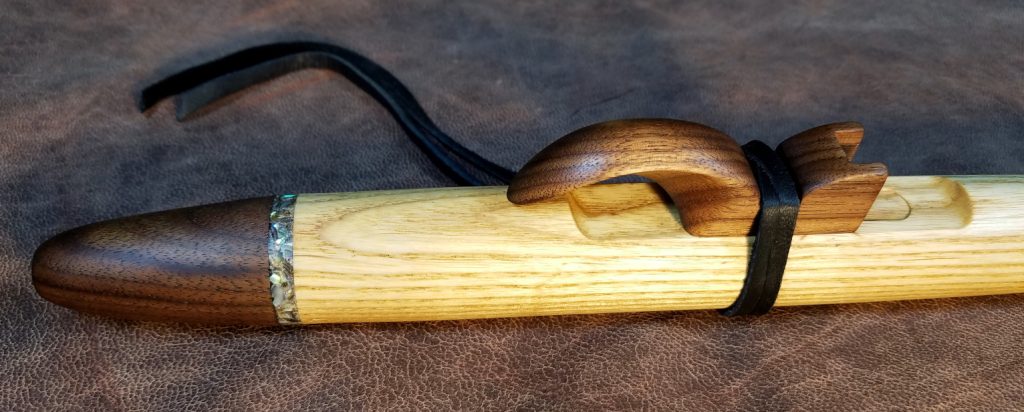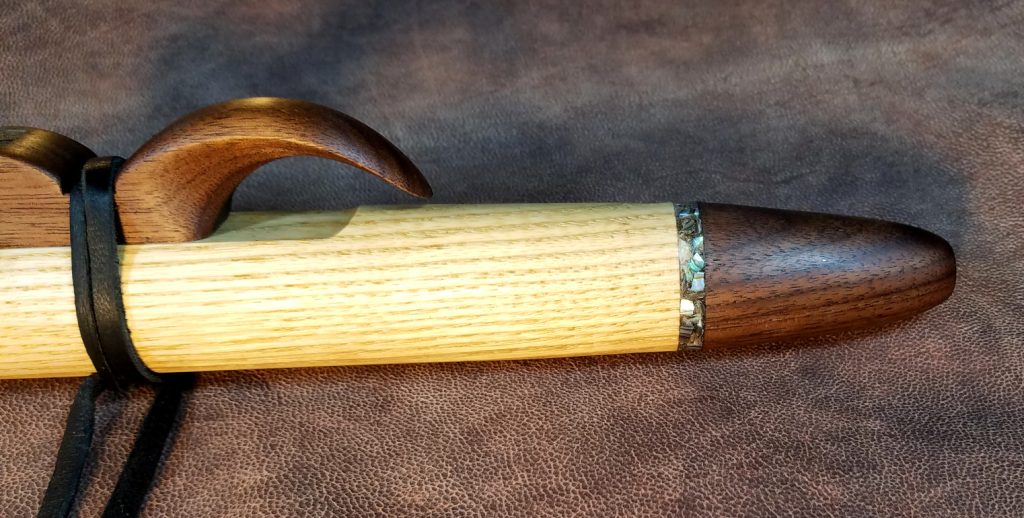 To purchase click "Add to Cart" (back up to) on this product page!
Shipping is only $10 which means I'm paying some of that cost. They are still shipped in the best pasteboard tube (which cost $6 ea. if bought individually) that can be kept (in lieu of a fancier hard case) for safe travel.